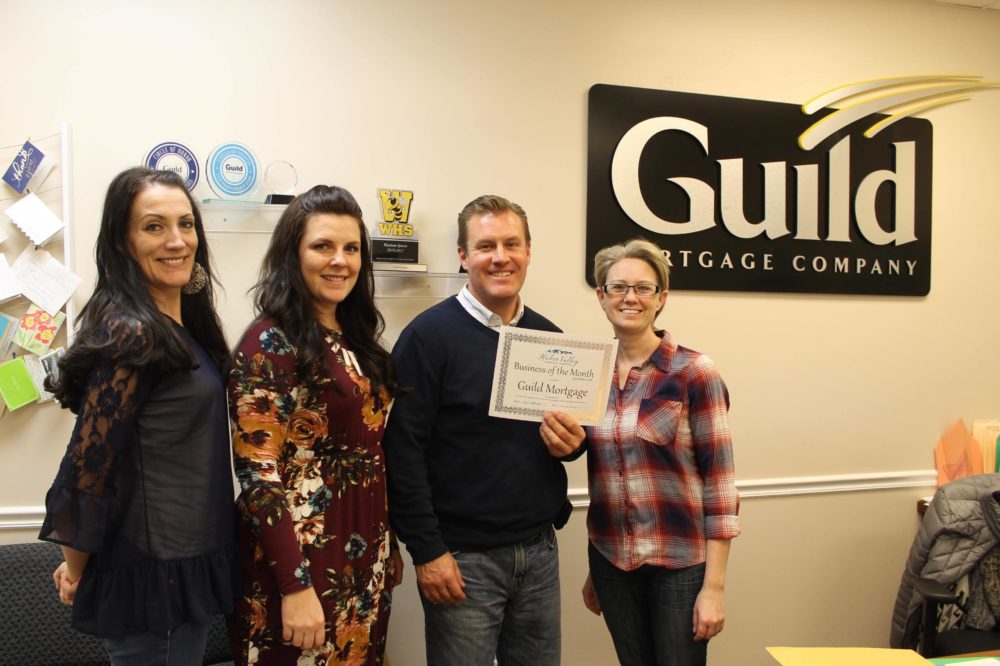 Guild Mortgage January Business of the Month
January 11, 2018
Some might think there isn't a lot to get passionate about in the home mortgage industry. There's paperwork, hours of it in fact. There's fact checking and rechecking. There's booms and busts in the market. So maybe these are the least glamorous parts of the mortgage industry, but for Tom Stone, and his team at Guild Mortgage in Heber, it's really about helping families realize their dreams.
Homeownership.
And Stone loves helping families get into right home at the best possible price. He knows it take a lot of trust for his clients to be willing to open up their personal financial histories. Earning that trust has become a passion for Stone and his team.
"I love it when the client sits down and puts their trust in me, which is hopefully earned, and listening to them to create the best scenario for their needs," said Stone.
Guild Mortgage is relatively new to the Heber Valley and the Utah market though the company has been around since the 1960s. The company culture was one of the driving factors that led Stone to opening the branch in Heber. Guild Mortgage is known for high quality customer service, and treating their employees well. In 2017, JD Power and Associates Ranked Guild Mortgage highest in customer satisfaction.
"It's our role to sit down with a client to hear what their income is, and debt is, what they are looking for then give them the best financial position in the industry," said Stone.
As one of the most tenured mortgage companies in the industry, they place a huge emphasis on a team approach in all its branch locations. Knowing this, Stone has worked hard to build a strong team in his office, and is the first to credit them for the success they experience.
"I couldn't be happier with the quality of individuals I believe are here. They have work ethic and all those things you're looking for, so I feel pretty lucky," he said.
Tom has been working in Heber in the mortgage industry for over 23 years, and has always enjoyed the feeling of working for himself, but when the chance came to work with a company like Guild it was hard to pass up.
"I never wanted to work in corporate America, but a trusted friend told me about the opportunity and I thought I'm going to give it a whirl, and the last five years have been dynamically better," said Stone.
Working to gain his clients trust, finding the best possible solutions to their financial needs, and helping people realize their dreams of homeownership is a passion for Stone.
Some may still wonder what's there to get excited about in home mortgages, but surrounded by his great team, with their years of experience, navigating the booms and the busts in the market, finding purpose in the paper work and fact checking, and helping their clients realize their homeownership goals is something the Staff at Guild Mortgage gets pretty exciting about.
Comments