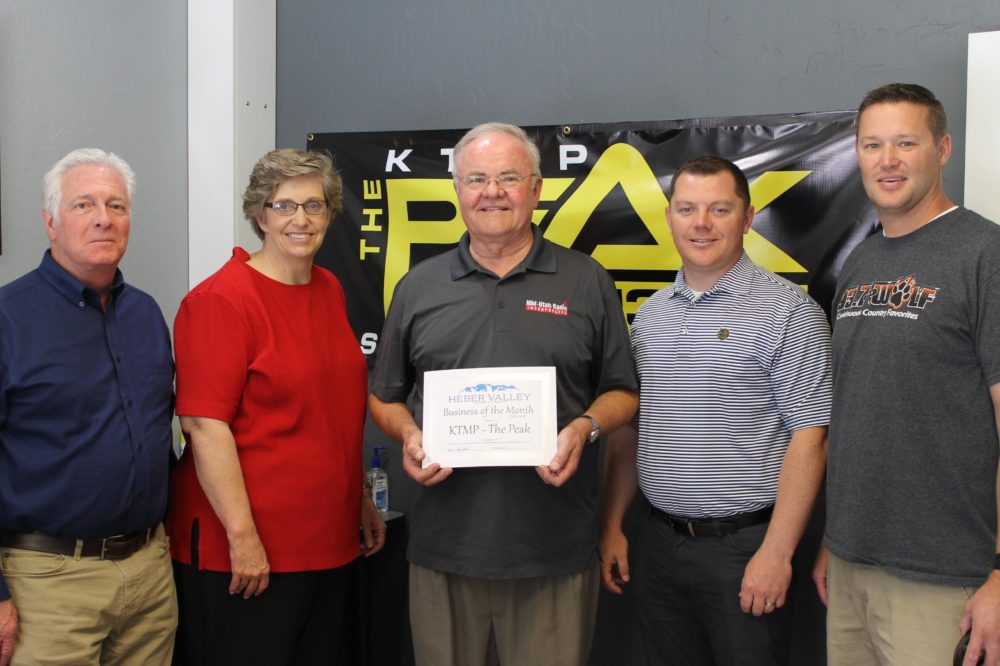 KTMP The Peak, July Business of the Month
July 12, 2018
In the world of mass communication like television, radio, or newspapers most people think to be successful you'd have to have, well mass, like in a major metropolitan area such as the Wasatch Front. However, for Doug Barton and his son-in-law Beau Lund, owners of Heber Valley's radio station – KTMP The Peak – have made a career of serving smaller markets, giving them the flexibility to focus on local needs, and it's paid off.
"There are a lot of radio companies that own a lot of radio stations, but our specialty is local radio that does local things. We specialize in local news, sports, weather, and community interests. That's what we feel we're good at," said Barton.
Barton begin his radio career some 42 years ago when he started a station, KMTI, in Manti, Utah serving less than 12,000 people in San Pete county. From those beginnings he's learned a lot about providing local information that can't be found anywhere else.
Today, he has grown from one station in Manti to eight stations throughout out central and rural Utah covering some 13 counties. Even though the programming and needs for each of those stations is as varied as the communities they serve, the common tie between them is being true to local needs.
When Barton and Lund came to the Heber Valley it was very important for them to provide the music and programing the community wanted. Lund, who runs operation and oversees the engineering of the station, said early in the planning stages to come to Heber Valley they knew they wanted to do two major things, bring in an FM repeater to clear up the AM signal, and to feature high school sports.
"Playing local sports ties into the community, and we have great feedback on it so far," said Lund. Each fall and spring Wasatch Wasp sports can be heard on the radio and online at Hebervalleyradio.com. Playing high school sports and sharing the stories that matter to our community are just a few examples of how they have been able to carve out a niche in the world of mass media.
The local flavor is so important to the Barton and Lund that they spend extra effort and time finding radio hosts that live in and are part of the community. Since beginning in Heber Valley, both of the radio hosts, Dennis May and Dan Jessop, have relocated to the valley.
"It's important to us our hosts sound like the community the serve and are active in the community," said Barton.
Jessop has been the morning voice for KTMP The Peak for a few months now and has a deep love and admiration for the residents of Heber Valley. For him, radio creates a personal connection with listeners.
"Listening to the radio is a personal experience. Most people listen by themselves in the car. It's a great way to communicate on a one on one basis," said Jessop.
KTMP has had a long history of serving the valley. Barton, Lund and Jessop are excited about the prospects of taking that legacy and expanding it to new audiences, and to new heights as the valley continues to grow, change and adapt in the future.
For their continued committed to providing a high-quality product with a local, familial feel, the Heber Valley Chamber of commerce is proud to recognize KTMP The Peak as the July Business of the month.
Comments