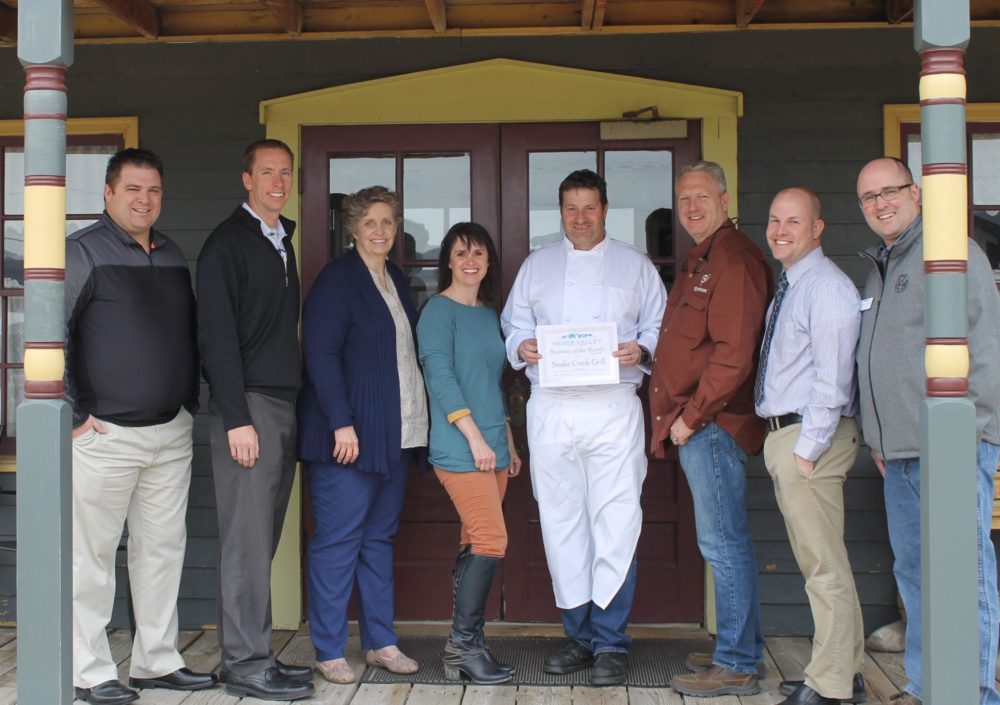 Snake Creek Grill April Business of the Month
April 11, 2018
There is an old saying that says "If you can stand the heat, stay out of the kitchen." The truth of the saying for professional chefs may not be about searing flames or the broiling ovens, but rather the long hours, the years of perfecting technique, and honing skills it takes to become a master at their craft.
For chef Dean Hottle, owner and head chef at Snake Creekt Gill, his buring passion to create delicious food has led him through those long nights and days. There were times when as a young chef straight out of culinary school Hottle found himself working at two different restaurants and a catering business, but as he says it's part of the business.
"If you want to become a chef, you have to like to cook and you need to cook a lot," said Hottle.
It takes time and practice to find out what flavors are inspirational and what make a chef unique. Hottle, a native of the New York, learned to cook at an early age and always loved being in the kitchen. From learning family recipes from mom and grandma to the practical matters of cooking what came in from the family farm or from the hunting trips, all these experiences have shaped his passion and the flavors that go into the meals he creates for his restaurant guests.
Growing up just an hour outside of Manhattan, a city that is known for it culinary prowess, Hottle had a chance to not only try some really great food, but also to work and learn skills that he brought with him to the western United States. As he saw great things happening out here he thought he'd give it a go. First working in Telluride, Colorado, Hottle fell in love with the mountains and the outdoors. This love of the outdoors would eventually lead him to Park City, Utah.
As the need to provide a better life for his growing family, Hottle explored the idea of owning his own restaurant. Other chefs that mentored him along the way helped learn the ins-and-outs of being a business owner. Its more than just great culinary skills to create a successful business.
"There's a lot to juggle owning your own restaurant. Your name is on the line and you want your restaurant to be a good reflection of your name," said Hottle.
Sometimes that meant doing whatever it took to make his restaurant successful, like long hours, covering for staff, and more. This is all part of the experience working for yourself and Hottle loves it. One thing that he enjoys most about being chef is working with his great team and teaching his staff to cook, manage, and take care of a successful restaurant.
"If I could teach most of the day, that would be phenomenal. That's what really drives me," said Hottle.
Chef Dean Hottle has owned and operated Snake Creek Grill for the past 11 years. He's been through the heat and pressure of economic down turns, long working hours, and daily challenges of being a business owner, but it all part of his love for crafting new and delicious creations. For his ongoing service and commitment to the Heber Valley, the Chamber of Comerce is proud to recognize, Snake Creek Grill as our April business of the month.
Comments