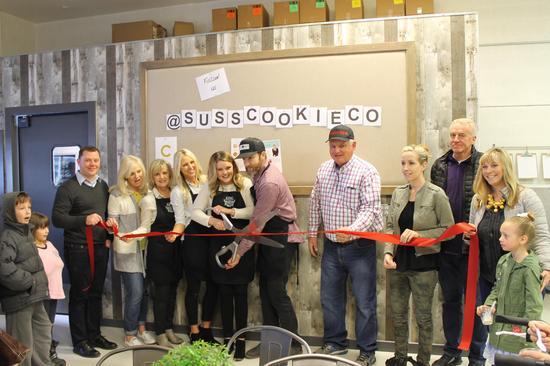 Suss Cookie Co, October Business of the Month
October 4, 2017
Like milk and cookies, Jessica Larson, founder and owner of Suss Cookie Company, has the perfect combination of business know how and love of baking that has launched her company into the shining success it is today.
Suss Cookie (pronounced like the famed Dr. Suess) operates out of a small shop on Center Street in Midway, but don't let the size of the building fool you. From this shop Larson and her team of 10 can crank out a staggering number of cookies each day, around 1,500. Ask her what makes her cookies so special and she'll tell you it takes quality ingredients, and a whole lot of "love."
"I know it sounds cheesy, but what you put into your cookie is what you get out," said Larson and what she puts in is love. Love for cooking, love for her business and love of her employees.
"We have an amazing team of people. The best part about it is that you get to be with a group of people that want to be together and enjoy the party of life," said Larson.
Her team works very hard to produce the quality gourmet cookies fans of Suss come to expect. They depend on each other to get the work done and that has created a strong sense of unity. This unity and interdependence on each other is just one of the ways she adds love to her cookies.
Another way she adds love has been her love of business. Larson said she's unique in that ever since she was a young girl she always wanted to start her own business. From an early age she learned that anyone willing to work hard and put in the effort could make money doing whatever they wanted. Filled with this knowledge and desire to own and operate her own business eventually lead Larson to form Suss Cookie Company and fight through the inevitable challenges the title of business owner bring.
"It's hard. I have wanted to give up a lot, but I knew if I never tried I would regret it for the rest of my life. I was more worried about the fear of regret then any kind of failure," said Larson.
Though she says it sounds "cheesy," love is the only ingredient she can't buy from the store, replace when it gets old, or barrow from someone else, but something she has to get from within. Larson loves what she does. She has a passion for creating new things, she loves her employees and all the little details that go into running a business, and this is one of the many reasons the Heber Valley Chamber of Commerce is proud to recognize Jessica Larson, and Suss Cookie Co., as the October business of the month.
Find Suss Cookie Co on Facebook and Instagram.
Originally posted on gohebervalley.com
Comments