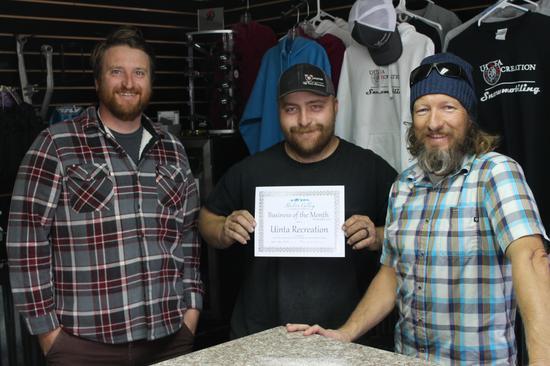 Uinta Rec. November Business of the Month
November 17, 2017
When you grow up loving being outside and enjoying adventures in the great outdoors, it's only natural to want to share that love with others. Adam Pulley, owner and operator of Uinta Recreation in Heber City, has found that just as much as he loves being in the outdoors, he loves helping others experience nature, especially when it's at full throttle.
Over the past 12 years, Pulley has grown his fleet of outdoor products to offer year-round recreation. From paddleboards, kayaks, and mountain bikes, to side-by-side ATVs, travel trailers, wave runners, and snowmobiles he has what you need to get outside.
For Pulley, experiencing the outdoors is as individual an experience as the trails you choose. That's one of the reasons at Uinta Recreation guests are able to take the equipment that fits their skill level to the trails and terrain that matches their ability.
"There are a lot of guided tours out there and they kind of go at the pace of the slowest person and you see what the guide wants you to see," said Pulley.  With his tours you get to go where you want to go and go as fast or slow as you see fit. It's this type of freedom that his customers really enjoy.
Running an outdoor adventure company in the Heber Valley also has its benefits.
"The old adage of 'location, location, location' is everything when it comes to business. When it comes to this type of business the Heber Valley really fits that saying," said Pulley. For him the Heber Valley attracts both in state outdoor enthusiasts and out of state guests looking to try something new.
From his shop on Highway 40, his guests are only minutes from accessing hundreds of thousands of acres on National Forest Lands and three state parks with hundreds of miles of trails for all day exploration.
Offering access to outdoor recreation has been a passion for Pulley. Over the years he's seen his business grow and feels so lucky to share what he loves with others.
"We feel blessed to be a part of this community," said Pulley, "so we try to give back to as much as we can to local causes." Giving back has been a great way for him to connect with the community, and he finds really joy in helping others. For these reasons and many others, the Heber Valley Chamber of Commerce is proud to recognize Uinta Recreation as the November Business of the Month.
posted originally on gohebervalley.com
Comments